Batteries
Exide Batteries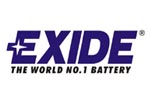 All our batteries are offered at great value prices fully fitted with comprehensive guarantees. We will also dispose of your old battery in an environmentally friendly way. Full Range of Batteries to meet all your motoring needs – from light city driving to long distance heavy motoring.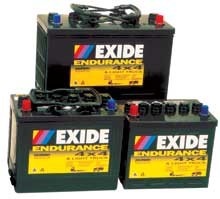 Exide Endurance Automotive Batteries
With a huge choice of duty ratings and configurations and a choice between maintenance-free and low-maintenance batteries, Exide have a battery for nearly all makes of passenger cars and utilities.
Exide Endurance Deep Cycle Batteries
Built to perform reliably and outlast ordinary car batteries in Deep Cycle applications where there is a prolonged power demand from accessories and other equipment.
Exide Endurance Marine Starting Batteries
Exide Endurance Marine Starting Batteries are built to withstand the pounding and vibration of marine use and still provide reliable power and long life.
Bring in your old battery for recycling and get R100.00 off your new Battery!!